Investing In Latin American Real Estate Is Worth The Risk
Summary
Now may be the time to invest in LatAm REITs.
The Tierra XP Latin America Real Estate ETF can be used to gain exposure to LatAm REITs.
Demographics and relative valuations make LatAm REITs look attractive.
For investors focused on the long term, it looks like a good time to invest in Latin American real estate. Yes, this is even after considering that near-term volatility will likely be high in Mexico during Donald Trump's presidential term.
An investment vehicle that provides diversification and exposure to LatAm's real estate market is the passively managed Tierra XP Latin America Real Estate ETF (NYSEARCA:LARE). It's a relatively new, small ETF with a 12/3/2015 inception date and only about $2.7 million AUM.
As of December 15, 2016, LARE held over 50 securities. The top 10 holdings make up about 27% of total AUM, with the top holding accounting for about 3.4% of fund assets. LARE's country exposures to Brazil, Mexico, Chile, and Argentina are 43%, 42%, 5%, and 2%, respectively.
While the fund is relatively small right now, assets could grow if the fund is successful at getting its story in front of US-based RIAs and institutions. LARE provides global retail investors an opportunity to access difficult markets like Brazil, and it's a unique investment vehicle. How unique? Over 80% of LARE's components are unavailable in competing products.
Fund asset growth could come if the fund lists on another exchange. According to James Anderson, Managing Principal at Tierra Funds, LARE may cross-list in Mexico early next year. If this happens, access to local pension capital in Mexico could be a source of AUM growth.
Latin America REIT Valuations Appear Favorable on a Relative Basis
While risk remains elevated in Brazil and Mexico – Latin America's two largest economies – fundamentals look attractive on a risk-adjusted basis. Brazil and Mexico REIT P/E's and P/FFO's (Funds from Operations) are well below U.S. REITs. This should be the case considering emerging markets (i.e. Brazil and Mexico) have meaningfully different risk profiles and higher interest rates when compared to developed markets. It is to be expected that LatAm would have lower valuation multiples, so what is more important than them being lower is the amount by which they are lower.
According to LARE's website, Mexico and Brazil REITs trade at a P/E that is less than half that of the MSCI US REIT Index. Relative valuations also appear favorable when considering price-to-FFO. P/FFO, which is often considered a better indicator of fundamental valuations for REITs, is 16.6x in the U.S. compared to 10.9x and 11.1x for Mexico and Brazil REITs, respectively.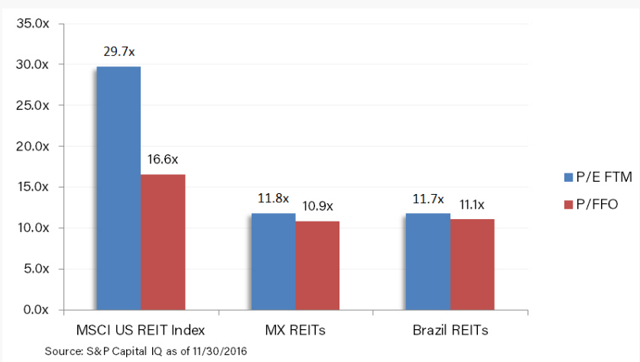 One could make the argument that US REITs are simply overvalued. The MSCI US REIT Index's forward P/E is around 30x versus about 17x for the S&P 500 Index. These high US REIT multiples are a consequence of the prolonged low interest rate environment. Yield hungry investors have had to look beyond bonds for income, and REITs have been a viable alternative. Therefore, it will be important to continue monitoring market sentiment as it relates to REIT risk premiums.
PE Real Estate Coming Back to LatAm?
Anderson mentioned LARE was in part created as a response to declining opportunities in the private equity real estate space in LatAm. It's been reported that real estate managers are cautiously returning to places like Brazil, which may be a signal that real estate valuations are appealing there.
Yields and Expenses
LARE yields a respectable 4.2%, which is similar to the 4.1% dividend yield on the MSCI US REIT Index (as of 11/30/16). We should also be mindful of expenses when investing in ETFs or mutual funds. The expense ratio is relatively high for LARE compared to many US REITs. For example, LARE's expense ratio is 0.79% versus 0.44% for the iShares US Real Estate ETF (NYSEARCA:IYR). However, expense ratios tend to be higher for emerging market ETFs when compared to developed market peers.
ETF Heavily Weighted to Brazil and Mexico
The fund is heavily weighted to just two markets, Brazil (43%) and Mexico (42%). This may be a gift or a curse.
A gift if we believe historically high interest rates in Brazil will continue to help the fund earn high yields from Brazilian assets; or if we believe the narrative that real estate values will rise if the Central Bank of Brazil continues cutting benchmark interest rates.
LARE's concentrated position could also work in the funds favor if the Mexican Peso decides it's finally done depreciating. MXN recently hit record lows and hasn't recovered much from there which has negatively affected many US investors holding Mexican assets. Nevertheless, yields and REIT valuations appear favorable in this region.
Alternatively, the fund's concentrated geographic position could be problematic if Brazil continues to muddle thru its persistent, ongoing corruption scandal(s). Also, Mexico could see its currency weaken further, which could limit LARE's capital appreciation.
Demographics and Valuations Make LARE Worth the Risk
Ultimately, an investment in LARE is a bet on demographics and favorable relative valuations. When an investment has those two things working in its favor, that is a bet I am willing to take.
Disclosure: I/we have no positions in any stocks mentioned, and no plans to initiate any positions within the next 72 hours.
I wrote this article myself, and it expresses my own opinions. I am not receiving compensation for it. I have no business relationship with any company whose stock is mentioned in this article.
Additional disclosure: Information in this article represents the opinion of the author. Opinions expressed herein are not an investment recommendation and are not meant to be relied upon in investment decisions. The author is not acting in an investment, tax, legal or any other advisory capacity. Any analysis presented herein is illustrative in nature, limited in scope, based on an incomplete set of information, and has limitations to its accuracy. The information upon which this material is based was obtained from sources believed to be reliable, but has not been independently verified. Therefore, the author cannot guarantee its accuracy. Any opinions or estimates constitute the author's best judgment as of the date of publication, and are subject to change without notice. The author explicitly disclaims any liability that may arise from the use of this material.
https://d2lhlh89nospbw.cloudfront.net/wp-content/uploads/2017/01/22193708/seekingalpha.png
225
225
Tierra Partners
https://www.lareindex.com/wp-content/uploads/2013/04/Tierra-Partners-Arbol-2015-1-03.jpg
Tierra Partners
2017-01-05 21:00:29
2017-03-14 13:10:47
Investing In Latin American Real Estate Is Worth The Risk